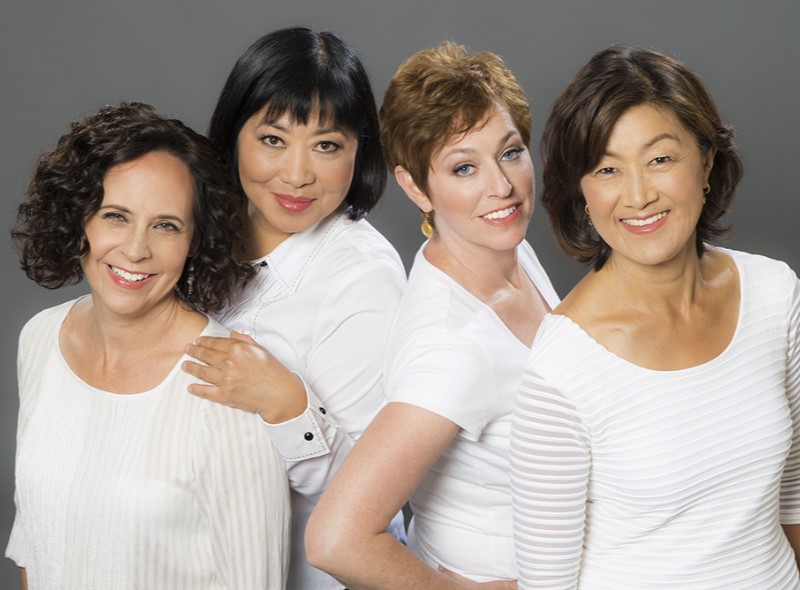 The Cassatt String Quartet

Acclaimed as one of America's outstanding ensembles, the Manhattan based Cassatt String Quartet has performed throughout North America, Europe, and the Far East, with appearances at New York's Alice Tully Hall and Weill Recital Hall at Carnegie Hall, the Tanglewood Music Theater, the Kennedy Center and Library of Congress in Washington, DC, the Theatre des Champs in Paris and Maeda Hall in Tokyo. The Quartet has been presented on major radio stations such as National Public Radio's Performance Today, Boston's WGBH, New York's WQXR and WNYC, and on Canada's CBC Radio and Radio France.

Formed in 1985 with the encouragement of the Juilliard Quartet, the Cassatt initiated and served as the inaugural participants in Juilliard's Young Artists Quartet Program. Their numerous awards include a Tanglewood Chamber Music Fellowship, the Wardwell Chamber Music Fellowship at Yale (where they served as teaching assistants to the Tokyo Quartet), First Prizes at the Fischoff and Coleman Chamber Music Competitions, two top prizes at the Banff International String Quartet Competition, two CMA/ASCAP Awards for Adventurous Programming, a recording grant from the Mary Flagler Cary Charitable Trust, and commissioning grants from Meet the Composer and the National Endowment for the Arts. In 2004, they were selected for the centennial celebration of the Coleman Chamber Music Association in Pasadena, California.

The Cassatt celebrated its twentieth anniversary in 2006 with a series of world-premieres, a performance at the Library of Congress on the Library's Stradivarius Collection and gave concerts for the American Academy in Rome, Cornell and Syracuse Universities and were guest clinicians at the the Texas Music Educators Association. They also gave mini-residencies at the Centro National de las Artes in Mexico City, Vassar College and the University of Texas at Austin.

"... an undulant, lyrical and insightful performance..." by the Cassatt String Quartet was recently cited in The New York Times. The 2014-15 season highlights include their debut at the Beijing Modern Music Festival, the New York Botanical Gardens with composer/moderator, Laura Kaminsky and return appearances at Chamber Music America's National Conference, Music Mountain Festival and Bargemusic with pianist, Ursula Oppens, the Westchester Chamber Society with violist Kazuhide Isomura of the former Tokyo Quartet and Treetops Chamber Series with clarinetist, Oskar Espina Ruiz. They will continue their unique collaboration with the Kyo-Shin-An Ensemble at New York City's Tenri Cultural Center to give performances for quartet, koto, shakuhachi and shamisen with James Nyoraku Schlefer and Yoko Reikano Kimura. This year marks their 9th annual Cassatt in the Basin! educational chamber music residency in Texas with guest, Maestro Benjamin Zander.

Summer highlights include their residency at the innovative Seal Bay Festival and the Atlantic Music Festival in Maine.

Equally adept at classical masterpieces and contemporary music, the Cassatt has collaborated with a remarkable array of artists/composers including pianist Marc-Andre Hamelin, soprano Susan Narucki, flutist Ransom Wilson, jazz pianist Fred Hersch, didgeriedoo player Simon 7, the Trisha Brown Dance Company, distinguished members of the Cleveland and Vermeer Quartets, and composers Louis Andriessen and John Harbison.

With a deep commitment to nurturing young musicians, the Cassatt, in residencies at Princeton, Yale, Syracuse University, the University at Buffalo and the University of Pennsylvania, has devoted itself to coaching, conducting sectionals and reading student composers' works, while offering lively musical presentations in music theory, history and composition. Selected by Chamber Music America, they served as guest artists for their New Music Institute; a series to help presenters market new music to their audiences.

Named three times by The New Yorker magazine's Best Of...CD Selection, the Cassatt's discography includes eclectic new quartets by Pulitizer Prize-winner Steven Stucky and Tina Davidson (Albany Records), by Daniel S. Godfrey (Koch International Classics) and by Grawemeyer and Rome Prize-winner Sebastian Currier (New World) as critiqued in The New York Times (Quartetset) was written for the Cassatt... which plays it strongly here."

The Cassatt has recorded for the Koch, Naxos, New World, Point, CRI, Tzadik and Albany labels and is named for the celebrated American impressionist painter Mary Cassatt.
Please visit the Cassatt String Quartet website for more information: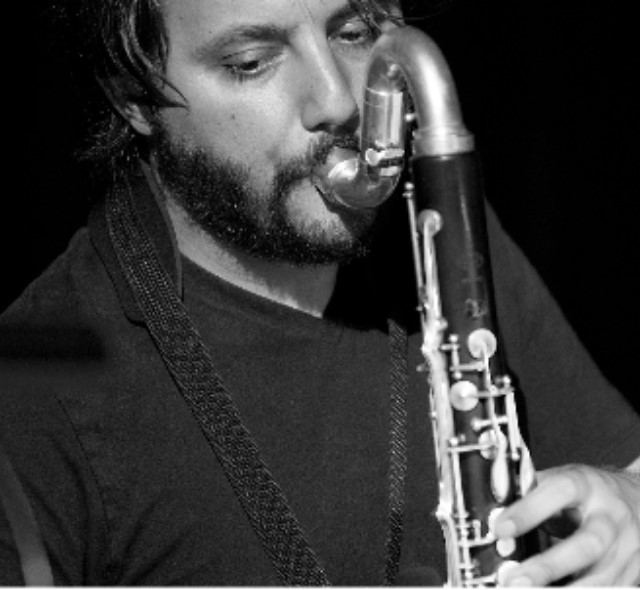 Vasko Dukovski

Vasko Dukovski, is a New York based multidisciplinary performing artist and composer.

Trained at the prestigious Juilliard School, Dukovski sees no boundaries in music and musical styles, but embraces all of it. An avid performer-composer and advocate of  contemporary classical and experimental music, Dukovski has collaborated with some of New York's most respected ensembles including Argento New Music Ensemble, S.E.M Ensemble, Bang on A Can All Stars, Talea Ensemble, Wet Ink, ECCE-East Coast Contemporary Ensemble, Metropolis Ensemble, Ensemble Pamplemousse, Nunc Ensemble, AXIOM, LPR Ensemble, The Knights Orchestra and others. In addition of being a front man of his world music quartet Tavche Gravche, he is a member of Either/OR Ensemble, Mise-En Ensemble, Lost Dog Ensemble and Ensemble.

Dukovski's musical sophistication spans the continents, appearing in Europe, The Middle East, North Africa, China, extensively in the US and on regular basis in New York City in venues such as Carnegie Hall, Lincoln Center, Symphony Space, BAM, Roulette, LPR, Miller Theater at Columbia University, The Met Museum and MOMA.

In 2015 Dukovski was awarded "40 under 40 Successful Macedonians" by the United Macedonian Diaspora. A Nominee of the 2013 "Virtuosi" Award Ceremony in his native Macedonia, Dukovski is a Winner of the 2010 Arriaga Chamber Music Competition with Grneta Ensemble; III Prize Winner of the Andreas Makris Clarinet Competition in Fort Collins, Colorado; Special Prize Winner of the 2002 Jeunnese Musicales Clarinet Competition in Bucharest, Romania; Winner of the 2001 International Woodwind Competition in Stara Zagora, Bulgaria; 2003 Eubie Blake Honors Award recipient; and a II Prize Winner of the 2002 National Chamber Music Competition and 1996 National Clarinet Competition, both in his native Macedonia.

Dukovski's TV and Radio appearances began from an early age at his town's local TV and Radio stations and since then he has appeared on WQXR-NPR, QKCR, The Jack Prize Radio Show, TRT (Turkey) , Brazilian National TV Station, Tunisian National TV Station, China's National TV Station and Tian Jin TV Station.

Dukovski has recorded for Naxos - American Classics, Deutsche Grammophon,  Albany Records, Sono Luminus - Dorian, Tzadik, Chicken Madness, In a Circle Records, Evolver Records, Furious Artisans, INNOVA Recordings, Non Such and Parma Recordings.

Born in Ohrid, in the Republic of Macedonia, Dukovski began playing with sound at age five and started his musical education at the age of eight. His dedication to music and the clarinet earned him a Fine Arts Award from the Interlochen Arts Academy, which he attended before earning a Bachelors and a Masters Degree from The Juilliard Schools of Music as a student of Charles Neidich and Ayako Oshima.  

For more information please visit: www.dukovski.com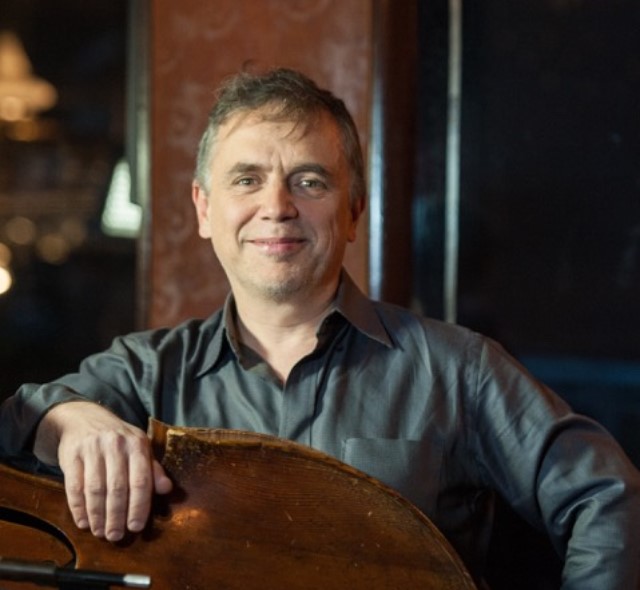 Pablo Aslan

Argentine-born Pablo Aslan is in demand for his skills as a producer, bassist, and educator, and for his knowledge of traditional and contemporary tango. His most recent album as a leader is Piazzolla in Brooklyn (Soundbrush Records), a tribute to the late Nuevo Tango master. His previous CD, Tango Grill (Zoho Music), was nominated for a Latin Grammy Award for Best Tango Album and a Grammy for Best Latin Jazz Album.
Aslan recorded Tango Jazz: Live at Jazz at Lincoln Center (Paquito Records 2010) with Cuban maestro Paquito D'Rivera and toured Europe the following year as music director of D'Rivera's Tango Jazz Septet. Other recent productions include "Todo Corazon" (Jazzheads) by flutist Mark Weinstein, "Romance" (Soundbrush Records) by pianist/composer Fernando Otero, "Live at Caffe Vivaldi" and "Te Extraño Buenos Aires"(Soundbrush Records) with pianist/composer Roger Davidson.
Aslan has performed and recorded with Yo-Yo Ma, Shakira, Lalo Schifrin, Denyce Graves, Osvaldo Golijov, Pablo Ziegler, Frank London, the New World Symphony, and the Philadelphia Orchestra, among many others. He has produced over a dozen albums for the Soundbrush label, including the 2007 Latin Grammy Winner Te Amo Tango by Uruguayan bandoneonist Raul Jaurena. He is currently recording a CD of works for bass and string quartet for Soundbrush Records, and a series of electronic tangos for dancers for his own label Avantango Records.
An active researcher and educator, he has produced educational programs for Lincoln Center Institute, Carnegie Hall Neighborhood Concerts, and Arts Connection in NYC, and lectured and taught at several universities throughout the US, including Harvard, Yale, and UCLA. He served as the Artistic Director of the Reed Tango Music Institute in 2013-14 and is currently Featured Artist at the Indiana University Tangueros Conference.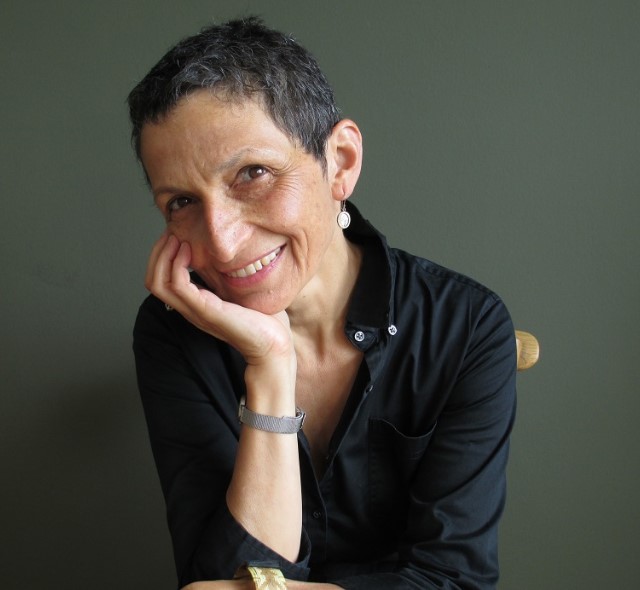 Artistic Director - Laura Kaminsky

Laura Kaminsky is a composer with "an ear for the new and interesting" whose works are "colorful and harmonically sharp-edged" (The New York Times). Social and political themes are common in her work, as is an abiding respect for and connection to the natural world. Kaminsky's "music is full of fire as well as ice, written in an idiom that contrasts dissonance and violence with tonal beauty and meditative reflection. It is strong stuff." (American Record Guide) Her opera, As One (co-librettists Mark Campbell and Kimberly Reed), recently presented at BAM, received unanimously positive reviews, including: "(As One) is a piece that haunts and challenges its audience with questions about identity, authenticity, compassion, and the human desire for self-love and peace" (Opera News) and "...musically, (this seasoned, socially-aware composer's) dramatically charged music has a tonal ambiguity that allows each scene to go where it needs to, and in a clear dramatic trajectory."(Operavore)

Kaminsky has received support from the National Endowment for the Arts, Koussevitzky Music Foundation, Opera America, BAM/The Kennedy Center De Vos Institute, New York State Council on the Arts, Aaron Copland Fund, Chamber Music America, American Music Center, USArtists International, CEC ArtsLink International Partnerships, Likhachev Foundation, Kenan Institute for the Arts, Artist Trust, Seattle Arts Commission, North Carolina Arts Council, Seattle Arts Commission, Virgil Thomson Foundation, Meet the Composer, and others. She has received six ASCAP-Chamber Music America Awards for Adventuresome Programming, a citation from the Office of the President of the Borough of Manhattan, and the Polish Ministry of Culture National Heritage 2010 Chopin Award. She has been a fellow at the Hermitage Artist Retreat Center, Virginia Center for the Creative Arts, Centrum Foundation, Dorland Mountain Arts Colony, and Millay Colony for the Arts. Currently composer-in-residence at American Opera Projects, Kaminsky is a member of the faculty in the School of the Arts/Conservatory of Music at Purchase College/SUNY, where she served as dean from 2004-2008.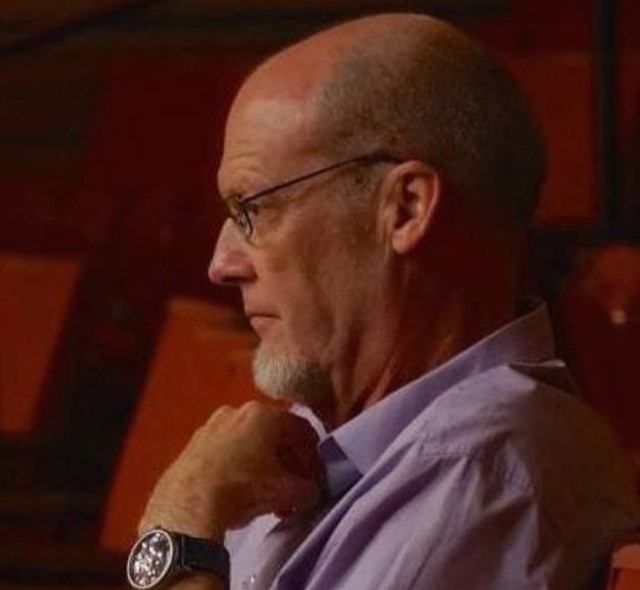 Daniel S. Godfrey

Daniel Strong Godfrey (b. 1949) has earned awards and commissions from the J. S. Guggenheim Memorial Foundation, the American Academy of Arts and Letters, the Fromm Music Foundation, the Rockefeller Foundation, the Bogliasco Foundation, the Koussevitzky Music Foundation, and the Barlow Endowment for Music Composition, among many others. His music has been performed by soloists, chamber ensembles and orchestras throughout the U.S. and abroad. He is founder and co-director of the Seal Bay Festival of American Chamber Music (on the Maine coast) and is co-author (with the late Elliott Schwartz) of Music Since 1945, published by Schirmer Books.

Godfrey's works have been recorded on Albany, CRI, GM, Innova, Klavier, Koch, UK Light and Mark compact disks. His music is available through publishers Carl Fischer and G. Schirmer.

Godfrey received his graduate degrees in composition from Yale University and the University of Iowa. He is currently Professor and Chair in the Department of Music at Northeastern University's College or Arts, Media and Design (Boston, Massachusetts). Prior to his recent appointment at Northeastern, Godfrey was Professor of Music Composition, Theory and History at Syracuse University's Setnor School of Music, and he has also held guest faculty appointments in composition at the Eastman School of Music and the Indiana University School of Music.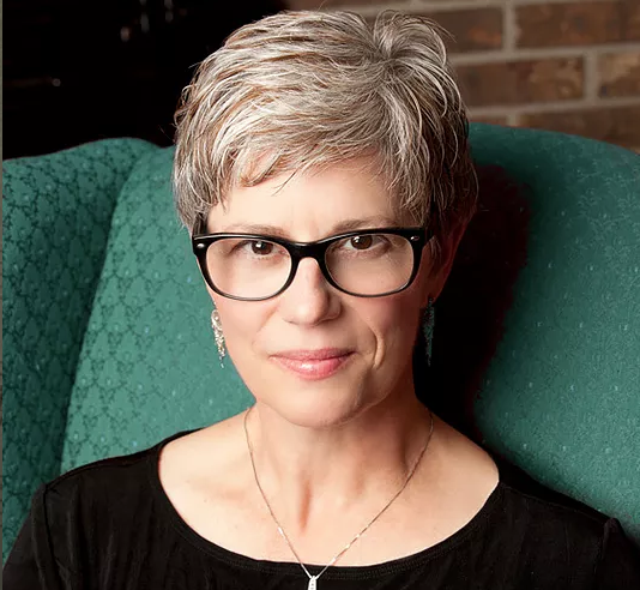 Melinda Wagner

Celebrated as an "...eloquent, poetic voice in contemporary music..." [American Record Guide], Melinda Wagner's esteemed catalog of works embodies music of exceptional beauty, power, and intelligence. Wagner received widespread attention when her colorful Concerto for Flute, Strings and Percussion earned her the Pulitzer Prize in 1999. Since then, major works have included Concerto for Trombone, for Joseph Alessi and the New York Philharmonic, a piano concerto, Extremity of Sky, commissioned by the Chicago Symphony for Emanuel Ax, and Little Moonhead, composed for the Orpheus Chamber Orchestra, as part of its popular "New Brandenburgs" project.

Noted for its "...prismatic colors and...lithe sense of mystery..." [Washington Post], Extremity of Sky has been performed by Emanuel Ax with the National Symphony (on tour), the Toronto and Kansas City Symphonies, and the Staatskapelle Berlin.

Championed early on by Daniel Barenboim, Wagner has received three commissions from the Chicago Symphony; the most recent of these, Proceed, Moon, is to be premiered by the CSO under the baton of Susanna Mälkki in 2017. Other recent performances have come from the American Composers Orchestra, the United States Marine Band, BMOP, the American Brass Quintet, the Empyrean Ensemble, and the Philadelphia Chamber Music Society.

Among honors Wagner has received is a Guggenheim Foundation Fellowship, and awards from the American Academy of Arts and Letters and ASCAP. Wagner was given an honorary doctorate from Hamilton College, and a Distinguished Alumni Award from the University of Pennsylvania in 2003. Melinda Wagner was elected to the American Academy of Arts and Letters in 2017.

A passionate and inspiring teacher, Melinda Wagner has given master classes at many fine institutions across the United States, including Harvard, Yale, Eastman, Juilliard, and UC Davis. She has held faculty positions at Brandeis University and Smith College, and has served as a mentor at the Atlantic Center for the Arts, the Wellesley Composers Conference, and Yellow Barn. Ms. Wagner currently serves on the faculty of the Juilliard School of Music.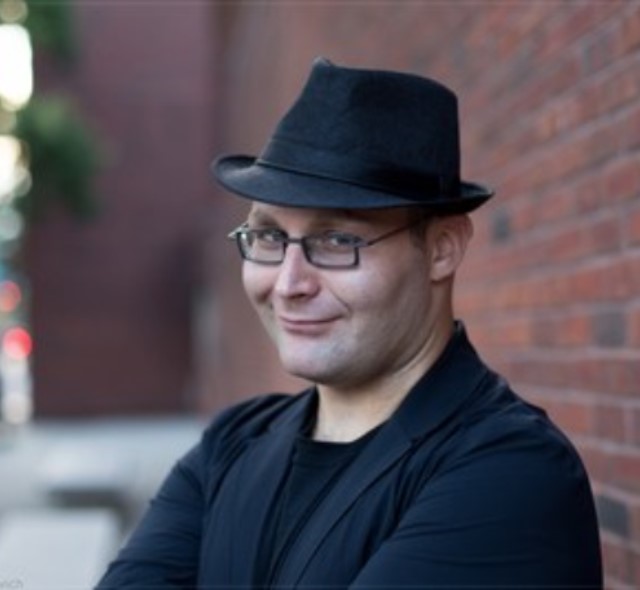 Lev "Ljova" Zhurbin

LJOVA (Lev Zhurbin) was born in 1978 in Moscow, Russia, and moved to New York with his parents, composer Alexander Zhurbin and writer Irena Ginzburg, in 1990. He divides his time between composing for the concert stage, contemporary dance & film, leading his own ensemble LJOVA AND THE KONTRABAND, as well as a busy career as a freelance violist, violinist & musical arranger. Among recent projects is a commission from the City of London Sinfonia, The Louisville Orchestra, a string quartet for Brooklyn Rider new works for Yo-Yo Ma and the Silk Road Ensemble, The Knights, Sybarite5 and A Far Cry, as well arrangements for the Los Angeles Philharmonic, San Francisco Symphony, Detroit Symphony Orchestra, tenor Javier Camarena, conductors Gustavo Dudamel and Alondra de la Parra, the Mexican songwriter Natalia Lafourcade, Argentine composer/guitarist Gustavo Santaolalla. Ljova frequently collaborates with choreographers Aszure Barton, Damian Woetzel, Christopher Wheeldon, Katarzyna Skarpetowska (with Parsons Dance).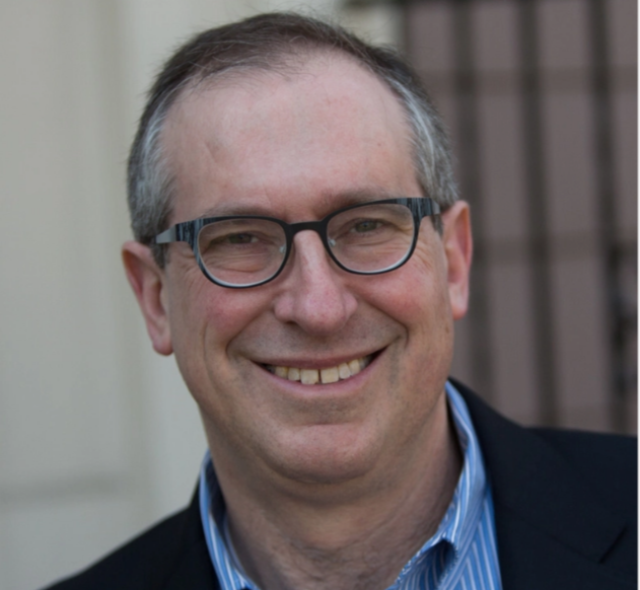 Gerald Cohen

Composer Gerald Cohen has been praised for his "linguistic fluidity and melodic gift," creating music that "reveals a very personal modernism that…offers great emotional rewards." (Gramophone). The music on his recently released CD, Sea of Reeds, "is filled with vibrant melody, rhythmic clarity, drive and compositional construction…a sheer delight to hear." (Gapplegate Review)

His opera, Steal a Pencil for Me, based on a true concentration camp love story, will receive its world premiere production by Opera Colorado in January 2018; excerpts were featured at Forth Worth Opera's Frontiers Festival in 2016. Cohen is a noted synagogue cantor and baritone; his experience as a singer informs his dramatic, lyrical compositions. Cohen's best-known work, his "shimmering setting" (Pittsburgh Post-Gazette) of Psalm 23, has received thousands of performances from synagogues and churches to Carnegie Hall and the Vatican.

Recognition of Cohen's body of work includes commissioning grants from Meet the Composer, National Endowment for the Arts, New York State Council on the Arts, and American Composers Forum. He is cantor at Shaarei Tikvah (Scarsdale, NY), and is on the faculties of the Jewish Theological Seminary and Hebrew Union College. His compositions are published by Oxford University Press, G. Schirmer/AMP and Transcontinental Music Publications.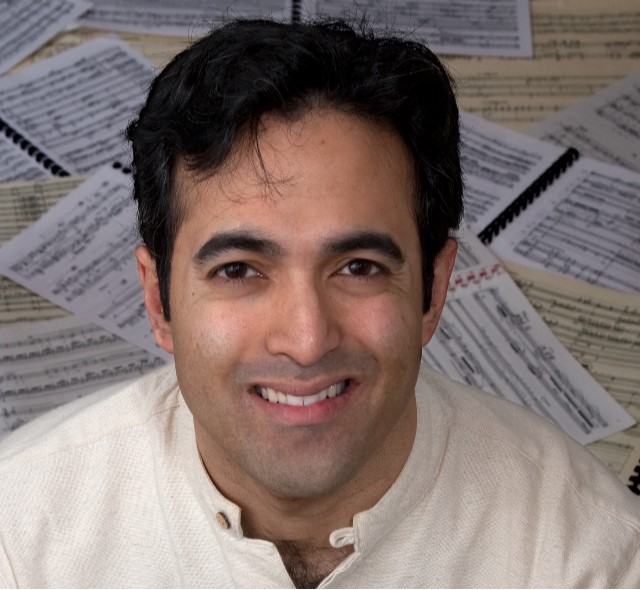 Vineet Shende

Vineet Shende spent his formative years in Chicago and Pune, India. He holds degrees from Cornell University, Butler University and Grinnell College, where he studied composition with Roberto Sierra, Steven Stucky, Michael Schelle and Jonathan Chenette. He has also studied sitar with Ustad Usman Khan. Shende's music has been commissioned, premiered, and/or recorded by ensembles such as the National Symphony Orchestra, the Portland Symphony Orchestra, Boston Modern Orchestra Project, the Amernet String Quartet, the Cassatt String Quartet and Flexible Music. He is an associate professor and chair of the Music Department at Bowdoin College in Brunswick, Maine.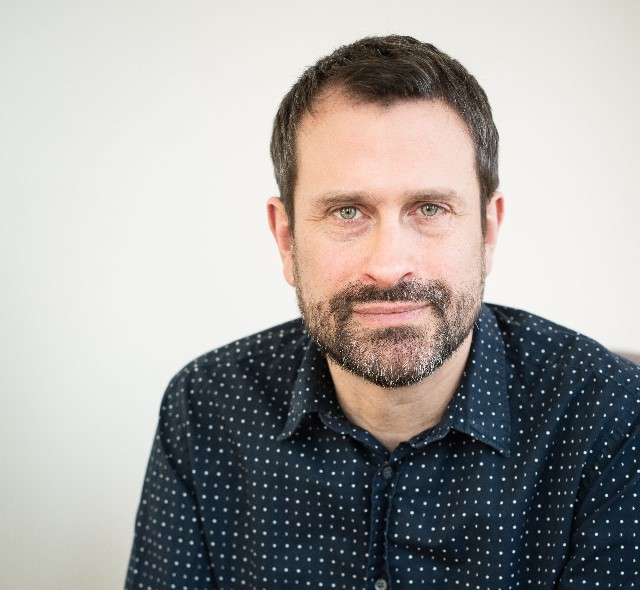 Daniel Sonenberg

Daniel Sonenberg is a composer, performer and educator living in Portland, Maine. His opera The Summer King, on the life of Negro League baseball great Josh Gibson, received its concert world premiere in 2014 in a performance presented by Portland Ovations and co-sponsored by the University of Southern Maine. The fully-staged World Premiere was presented by Pittsburgh Opera on April 29, 2017, starring baritone Alfred Walker and mezzo soprano Denyce Graves. Michigan Opera Theatre will present a second fully-staged production in May 2018. Mr. Sonenberg's short one act opera Girl in Six Beats, with a libretto by seven high school students, was commissioned by Opera Maine as part of an initiative with The Telling Room and the University of Southern Maine. It will have its world premiere at USM in April 2018. His 11 Minute Fantasy (2017), for solo piano, was commissioned by the Maine Music Teachers Association and premiered by Annie Antonacos in Concord New Hampshire in October 2017.
Other recent performances include Opera America, the Da Capo Chamber Players, American Opera Projects, percussionist Lynn Vartan, Fort Worth Opera, members of the Portland Symphony Orchestra and numerous others. In the past several years he has also been active as a rock musician, releasing a solo album, Peaks Island Ferry, in 2014, and both an E.P. (The Bear (2013)) and full length album (Long Overdue (2015)) with his band Lovers of Fiction. He is Professor of Music at the University of Southern Maine, where he has taught since 2004.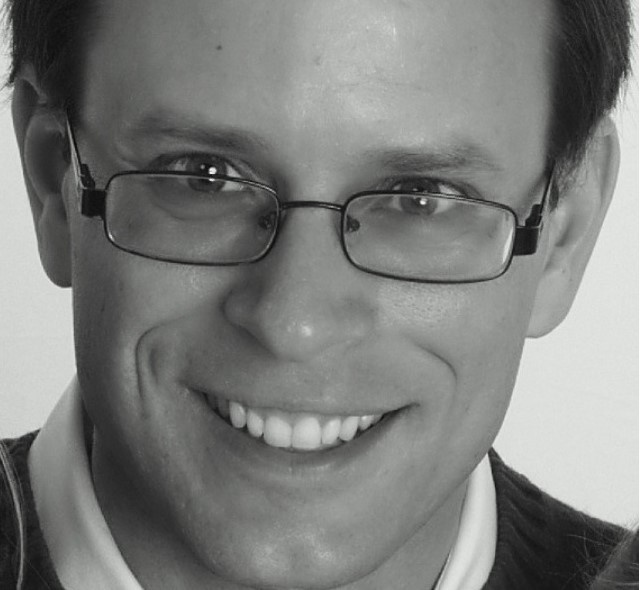 Delvyn Case

Delvyn Case is a composer, conductor, educator, and performer based in Boston. His music has been performed by 70 orchestras across the US, UK, and Canada, including the National Symphony Orchestra, the Royal Philharmonic, and the Atlanta and Toronto symphonies. Other performers of his music include the Grammy-winning quintet Chestnut Brass Company, the Dallas Wind Symphony, United States Coast Guard Band, mezzo-soprano D'Anna Fortunato, and the Hermitage Trio. He has received awards, honors, and fellowships from BMI, The MacDowell Colony, The Society of Composers, The Atlantic Center for the Arts, and The New York Virtuoso Singers, among others. His 2008 chamber opera The Prioress's Tale, which explores issues of religious intolerance, toured New England for three seasons years as part of a unique initiative to foster dialogue about peace-making and reconciliation. His two outreach pieces for narrator and chamber ensemble, commissioned by the Portland Symphony Orchestra, have been performed for over five thousand children in Maine, Massachusetts, and California since 2010. He studied at music at Yale (B.A. summa cum laude) and the University of Pennsylvania (Ph.D. in musical composition), as well as conducting at the Curtis Institute of Music. He is former member of the graduate faculty of the Longy School of Music, and has also taught at Boston College and Northeastern University. He now serves as Associate Professor of Music at Wheaton College in Norton, Massachusetts, where he conducts the Great Woods Symphony Orchestra.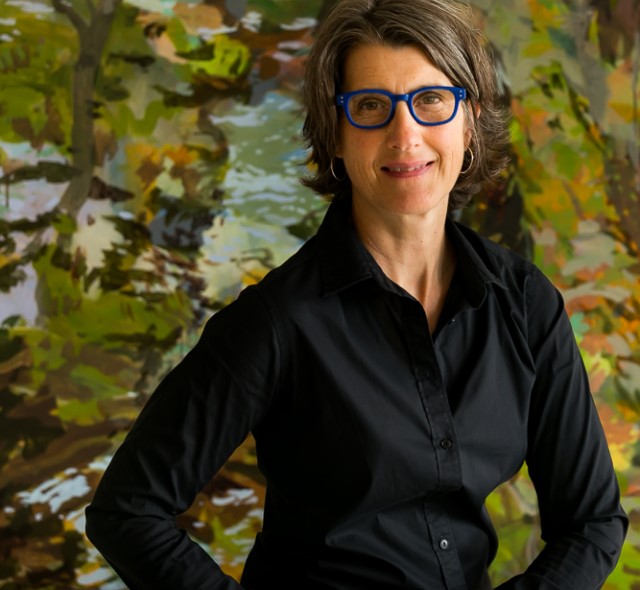 Rebecca Allan

Known for her richly layered and chromatically nuanced abstract paintings, Rebecca Allan has for many years concentrated on rivers, tributaries, and watershed environments as primary sources of investigation. Her work explores the ecology, meteorology, and geology of the Northeast, Pacific Northwest, and the Gulf Coast. Working from a studio that overlooks the Harlem and Hudson Rivers in New York City, Rebecca is inspired by a deep appreciation for the beauty of the natural environment overlaid with an awareness of its fragility and endangerment.

Exhibiting in the United States and abroad for more than 25 years, Rebecca's most recent solo exhibitions were presented at Herron School of Art at Indiana University and Purdue University. The Nancy Dryfoos Gallery at Kean University Hudson Opera House Gallery; ArtLab78 (New York) and Gallery 2/20, The American Church in Paris, Ringling College of Art and Design/Longboat Key Center for the Arts; and Seattle Art Museum Gallery. Rebecca has been a Fellow at the Hermitage Artist Retreat, Virginia Center for the Creative Arts, and Dorland Mountain Arts Colony. From 2006-2014 Rebecca was the Director of Education at the Bard Graduate Center for Studies in the Decorative Arts, Design History, and Material Culture in New York City.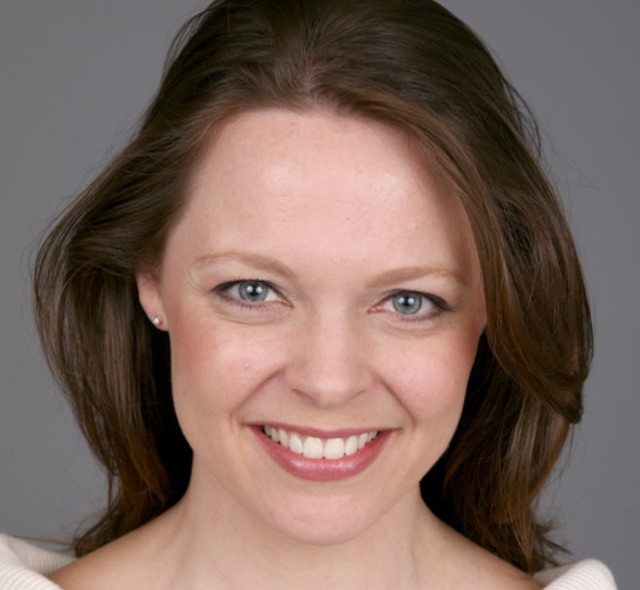 Signe Mortensen

A Seattle native, Signe now lives in New York City where she works as a coffee guru, community organizer and musician. Ms. Mortensen has been seen in performances across the US including the roles of Alice in Le Comte Ory with Tacoma Opera, Pamina in Magic Flute and Musetta in La Boheme with Bellevue Opera, Anna in Seven Deadly Sins as guest artist at UW Opera Theater, Micaela in Carmen with Skagit Opera, and Adele in Die Fledermaus with Tri-Cities Opera.  She can be heard on John Duffy's recording We Want Mark Twain (Albany Music Distribution, 2010) with the Cassatt Quartet.

Signe spent 8 years with the Duffy New Composer's Institute at the Virginia Arts Festival in Norfolk, VA where she was proud to bring new music to life in collaboration with composers, librettists and musicians. Signe was honored as a regional finalist by the Metropolitan Opera National Council Auditions in 2004 and given an incentive award in 2003. Other awards include the Alan Lund Scholarship in 2003 and the Tri-Cities Opera Guild awards in 2001 and 2002 while a member of Resident Artist Training Program at Tri-Cities Opera in Binghamton, NY.
An active member of her artistic community in the West Harlem Sugar Hill area of Manhattan, Signe finds joy in learning about the people and musical traditions of her diverse community.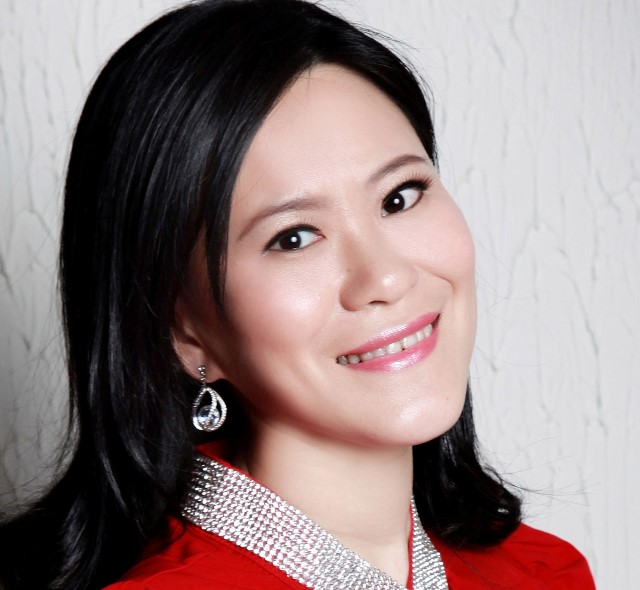 Xinyan Li

Dr. Xinyan Li's works are featured at Aspen Music Festival, Carnegie Hall, China's National Center for the Performing Arts, 19th Nordic International Bassoon Symposium, Septembre musical de l'Orne, 44th and 45th IDRS Annual Conference etc. She was invited twice as visiting composer by Aspen Music Festival; her interview and six works have been broadcasted by Sweden's national radio—Sveriges Radio; three works of hers was published by TrevCo Music Publishing. Her music has been performed by American Composers Orchestra, members of Eighth Blackbird, PRISM Quartet, and principal musicians of Philadelphia, Baltimore, Detroit, St. Louis, Montreal, Bergen Orchestras and Orchestre National de France etc.
Her awards include ASCAP Morton Gould Young Composer Award, American Composers Orchestra New Music Readings, Tsang-Houei Hsu International Music Composition Award, IDRS Conference 2016 Schwob Prize in Composition, as well as grants from National Endowment for the Arts. She received degrees at University of Missouri-Kansas City and China Conservatory of Music; she taught composition and music theory at New York Philharmonic Orchestra's Very Young Composers Program and Pre-college Division of China Conservatory of Music.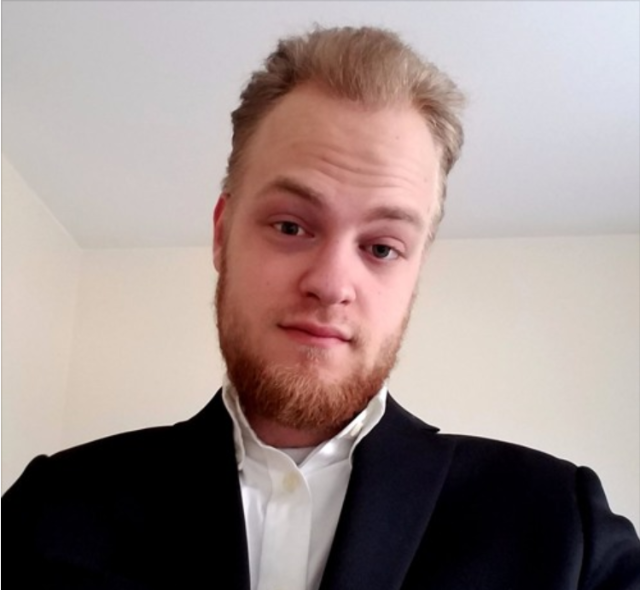 Gregg Welcher

Gregg Welcher is a Junior composition student at the at SUNY Purchase's Conservatory of Music. He currently studies under Professor Laura Kaminsky and previously with Professor Huang Ruo.  Gregg is involved with the Purchase's New Music program, in which student composers and performers.  He has also studied piano performance, and for 9 years with John Spradling. Gregg is currently a representative for the Society for New Music and former student leader of Junior ProArt group for young musicians. This most recent summer Gregg was a participant in the 2017 soundSCAPE Festival in Maccagno, Italy, where he worked with faculty from the Eastman School of Music and the BroadBand Ensemble. The previous summer, he was involved with the 2016 Brevard Music Festival.
Prior to university, Gregg participated in the Oberlin Summer Composition Workshop, the Young Composer's Workshop in Cazenovia, and the Ithaca Summer Piano Institute.  He has also received multiple commissions from the Cazenovia Counterpoint music festival as part of their Rising Stars series, where Gregg has also been featured as a pianist. Also prior to university, Gregg was the winner of many local piano competitions, including the CNYAMT Piano Competition, Heddy Kilian Competition for Piano and Voice, and the Onondaga Civic Symphony Orchestra Concerto Competition.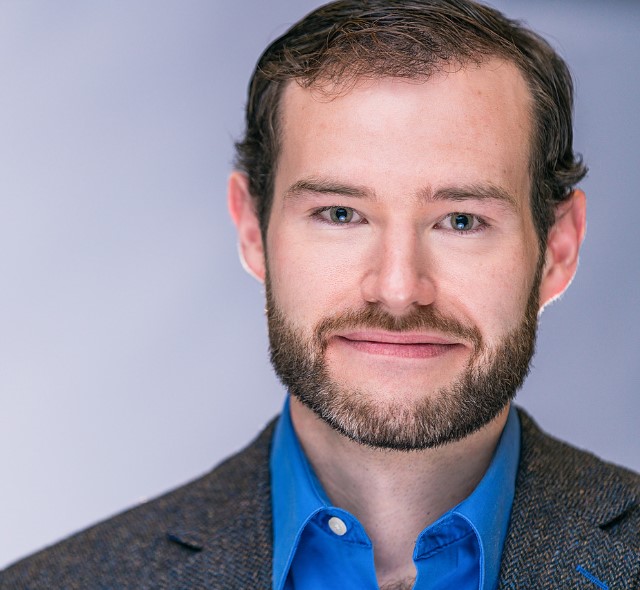 Benjamin Park

Boston native Benjamin Park (b. 1987) began his musical training on piano as a child, later adding horn in high school at Boston Latin. He began writing music on his own, starting with piano pieces and moving to an overture for chamber orchestra written for a high school play in which he also acted. Ben's interest in math and science led him to enroll at the Massachusetts Institute of Technology for a degree in physics, and while pursuing that track he also began taking music courses, eventually completing a dual degree in 2010. He took classes with Peter Child, Keeril Makan, and Charles Shadle, also becoming involved as a performer in the MIT Wind Ensemble.

Electing to follow his passion for music, Ben subsequently enrolled at the Hartt School at the University of Hartford, where he earned both a master's degree (2012) and artist diploma
(2014). While at Hartt, he studied with Larry Alan Smith, Robert Carl, David Macbride, and Ken Steen and continued playing horn in Capitol Winds, which premiered The Lady, or the Tiger? for wind ensemble and narrator in December 2012. He also had multiple works commissioned by the school's new music ensemble (Foot in the Door) and took part in collaborations with the Dance and Theater Divisions, including a production of Molière's Tartuffe.

Ben is currently in a doctoral composition program at the New England Conservatory, where he is studying with Kati Agócs. In the past couple years, he has had multiple works premiered in NEC's Jordan Hall, and in January 2015 his Huldufólk for solo violin and chamber orchestra was performed in Reykjavik, Iceland, as part of the 2015 Dark Music Days Festival. In 2017, the Boston Modern

Orchestra Project (BMOP) premiered The Dwarf Planets (an addendum of sorts to Holst's renowned suite), and in the summer Ben was the composer in residence at the new Flatirons Chamber Music Festival in Boulder, Colorado, started by fellow NEC musicians Jamie Clark and Kenny Lee. Ben also coordinates the Tuesday Night New Music series at NEC and has been teaching a variety of theory and composition courses at NEC, Boston College, and MIT.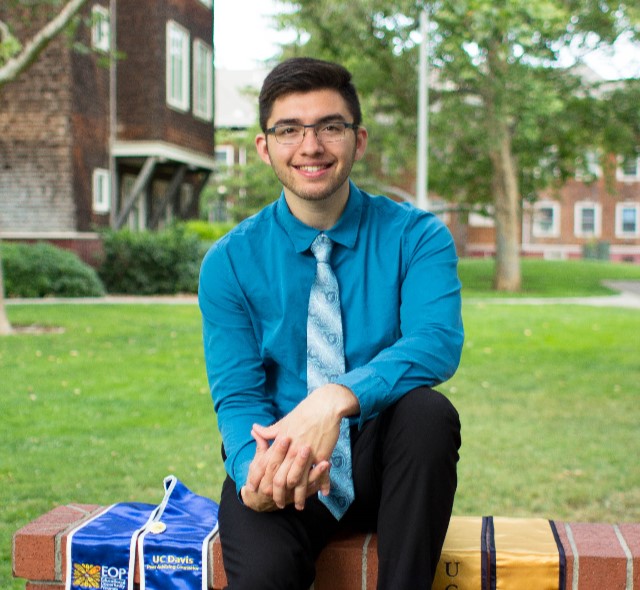 Kristin Kirk

Kristin Kirk is a composer who has always had a healthy obsession with all things nerdy, from video games and adventure board games, to role playing in Dungeons and Dragons campaigns as a bard (just typical of a composer). These narrative driven hobbies have wormed their way into the music that Kirk creates; much like these fantastical mediums, Kirk focuses on the stories and experiences that a piece of music might implicitly or explicitly imply.

With eyes on the media industry, Kirk often collaborates in film, indie games, and outside projects he is enthusiastic about. Kirk attended the University of California Davis and graduated with honors in 2017 earning a B.A in Music. While there, he studied with Guggenheim fellows Kurt Rohde and Laurie San Martin. He is currently pursuing a master's degree from the Conservatory of Music at the State University of New York Purchase, studying with Gregory Spears.

In addition to composing, Kirk is an advocate for individuals who identify as being low income, first generation college students, an underrepresented minority, and those with experience being in the foster care system. Much of his life has been shaped by these experiences and identities he holds close to his heart.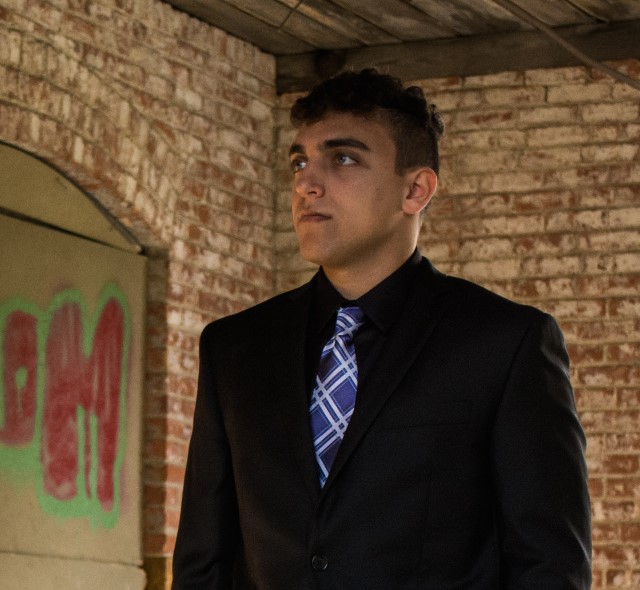 Carle Jordan Wirshba

Originating as a punk/rock guitarist with no formal training in music, Carle Jordan Wirshba has invested much of his college career overcoming his sense of inadequacy in an artistic field that famously values prodigies and preschool piano lessons. He is currently studying composition under Nicolas Scherzinger, at Syracuse University's Setnor School of Music. Only beginning formal composition late in 2015, he has since fully indulged in his own compositional mind, creating hybrid species between punk-rock, experimental sound, and post-minimalism. The generative force behind his compositional process stems from this genre-defiance, where connection to the music is more important than the title assigned to it.

Carle currently holds a bachelor of arts in music from Binghamton University, where he studied composition under Daniel Thomas Davis for over two years; as well as briefly studying with composer Gordon Beeferman. He also holds a bachelors of science in integrative neuroscience form Binghamton University and a minor in education. He has been commissioned by various organizations in the New York southern tier, including the Binghamton University Undergraduate Research Center, the Center for Israeli and Judaic Studies at Binghamton, Harpur Edge, and the Harpur College Summer Scholars and Artists Fellowship.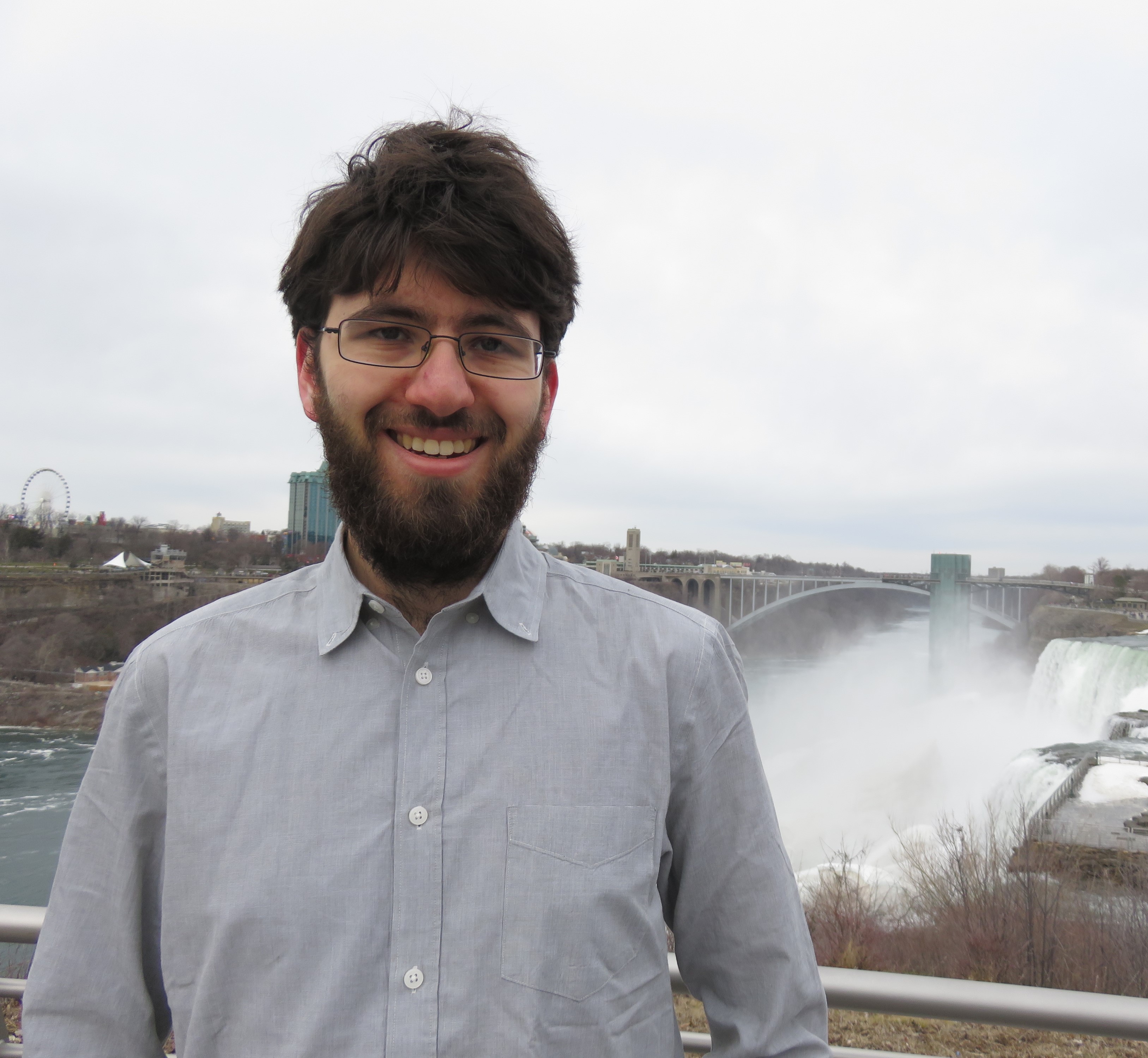 Zach Hicks

Brooklyn-born composer and flutist Zach Hicks is a recent graduate of NYU Steinhardt, where he earned a Bachelor of Music degree in instrumental performance. he is looking forward to continuing his musical studies at New England Conservatory this Fall, where he will be pursuing a masters degree in music composition. Mr. Hicks has been commissioned by the Joffrey Ballet School, and his music has been recorded by the Manhattan Symphonie. As a flutist, Mr. Hicks has performed in North and South America with ensembles and organizations such as the Union Philharmonic, New York Youth Symphony, and Utopia Opera. He is the youngest winner to date of NYU Steinhardt's Woodwind Concerto Competition, and he has participated in other flute competitions in California, Colorado, and New York.